Imunify360 keeps your Linux web servers safe.
Imunify360
---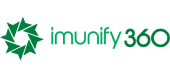 Imunify360 is an automated security solution, powered by AI and Proactive Defense (a unique way of idenitifying threats), that will protect your web servers from infections, maintain secure kernels, and keep you in the know with relevant information.
Advanced Firewall
Intrusion Detection and Prevention
Malware Detection
Proactive Defense
Patch Management
Visit the Imunify360 website for more information.
Pricing / Order
Server License
Number of Users
Unlimited
Instant Activation
Latest Version of Imunify360
Updates from Imunify360
Change IP at Client Area
Access to Partner Discounts
Our Price

$44.95/month




$39.95/month


ORDER NOW
Certification

We are a certified Imunify360 reseller. Having purchased a large quantity of licenses, it has given us the opportunity to offer you discounted Imunify360 licenses, with even greater discounts available on bundling with cPanel/WHM licenses.