Blesta is a well designed system that is developer friendly.
Blesta
---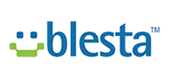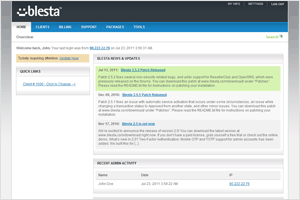 Blesta is a multi-purpose professional web-based billing solution, ideal for but not limited to web hosts. With Blesta you can easily manage clients, invoices, services, payments, and more! This fully featured solution is security conscious, developer friendly and not to mention easy to rebrand.
Multi-Currency Billing
Intuitive Client Management
Automated Billing and Provisioning
Integrated Support Features
Developer Friendly System
Want to see it in action? Take a look at the online demo.
Visit the Blesta website for more information.
Pricing / Order
Monthly Unbranded
Owned Unbranded
30 Day Free Trial
Instant Activation
-
-
Latest Version of Blesta
Support from Blesta
Upgrades from Blesta
Reissue License at Client Area
Access to Partner Discounts
Our Price

$14.95/month




$9.95/month


ORDER NOW

$300.00/once




$174.95/once


ORDER NOW
Can be upgraded at any time


FREE for 30 days


MORE INFO
Available Add-ons
Integration Service -

$39.95


Custom template for Blesta to match the look of your web site.
Installation Service -

$14.95


We upload and install Blesta, ready for configuration.
Upgrade Service -

$14.95


Upgrade your Blesta install to the latest version available.
---
Certification

We are a 
certified Blesta reseller
. Having purchased a large quantity of licenses, it has given us the opportunity to offer you Blesta at a greatly discounted rate. The licenses we offer are not much different to the licenses you'd get if you were to buy direct. The support is fully provided by Blesta, the main difference that you will find is that our price is lower.